"The Lion and the Unicorn" is the last aired episode of Batman: The Animated Series. It originally aired on September 15, 1995.
Plot
It's just another day in the Batcave: Bruce Wayne is hard at Gotham, Dick Grayson is practicing a gymnastic routine, and Alfred is fussing over both of them.
This comfortable routine is interrupted when, upstairs in the Manor, Alfred receives an unexpected phone call from England: his "cousin," Frederick, who needs Alfred's help, immediately.
The next morning, Dick wakes and is surprised to see Alfred gone, having left a quick note of apology. He explains this to Bruce, saying this is unlike Alfred, as his normal behavior is not to leave dirty dishes lying about "not even if England was sinking into the sea". Bruce sees Dick's point, but believes something important happened as Alfred is clearly loyal to his native country.
In London, Alfred is met on the street by a pair of thugs. They claim that Frederick has sent them, but Alfred sees through them and fights them off. He manages to outrun them. As he makes a call to Gotham City to tell Bruce that he's in trouble, the thugs break in and capture him.
Frederick has also been taken, and they are both introduced to their captor: Red Claw.
Bruce fills his astonished partner in on Alfred's background: before entering service with the Waynes, Alfred was a highly trained agent of the British government, expert at resolving diplomatic and military crises. Bruce also realizes that "cousin", is also espionage parlance for a fellow agent, and reasons that, whatever trouble Alfred is in, it is a cause for concern.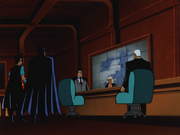 Batman and Robin fly to London, where, in their civilian guises, they search Alfred's hotel room. As they leave, two men watching the hotel begin to tail them. They get the drop on their pursuers as Batman and Robin and identify them as Red Claw's men. They soon drop in on a conference with three shadowy government ministers. Having learned of Frederick and Alfred's disappearance, the ministers know that the common point of their careers is a castle located on a remote Scottish island, with a concealed nuclear ballistic missile. It was intended as a weapon of last resort, and Alfred and Frederick are the only men alive who know the two-part launch code.
Red Claw has already taken the two men to the castle, and injected them with a truth serum. After some resistance, Frederick breaks down and gives his part of the code. Alfred resists longer, mumbling quotations from British poetry.
Nevertheless, Red Claw sends a message to London, threatening to plant the missile in the middle of London unless she is paid an enormous ransom.
Batman and Robin infiltrate the castle and fight their way through Red Claw's thugs to the upper levels. Just before they reach the control room, Red Claw realizes that Alfred's apparent ramblings were a clever cover for the fact that one of the phrases is the code, and initiates the launch. Robin frees Alfred and Frederick and deals with the remaining thugs, while Batman jumps into the Batwing and flies after the missile. Red Claw, however, knocks Robin out from behind and discreetly follows Batman onto the Batwing.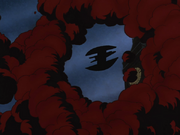 Aboard the Batwing, Batman is about to fire a pair of missiles, but Red Claw grabs him from the rear seat and they fight, Red Claw removing his cowl and unmasking him in the process. Before she can see his face, in desperation, Batman ejects the passenger seat, sending Red Claw shooting out of the cockpit to plunge into the ocean. With seconds to spare, Batman locks on to the missile and fires, destroying it before impact.
A crisis averted, everyone prepares to go home. Frederick tells Alfred that London would be thrilled to have him back, but Alfred says he's most needed at Wayne Manor.
Continuity
Background information
Home video releases
Production inconsistencies
Trivia
Cast
Uncredited appearances
Quotes
Alfred: (After being drugged with a truth serum) You'll get nothing but gibberish out of me, madam. I come from haunts of cootenfern and knicker sudden Sally. Uh...dee-dum dee-dum dee-dum dee-dum, and bicker down the valley.
Red Claw: (shakes her head) And people wonder why no one takes Britain seriously anymore.
(Alfred knocks out a thug with an antique chair, breaking it)
Robin: And here I thought all you dusted was furniture.
Alfred: A Louis Quinze: what a pity.
Community content is available under
CC-BY-SA
unless otherwise noted.