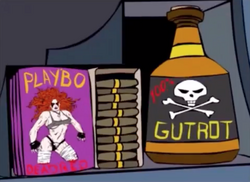 Playbo is a pornographic magazine that Lobo owns and is a fan of. The cover resembles that of a skimpily dressed female Czarnian.
History
Lobo hides the issues of the magazine in his SpazzFrag 666 alongside his favorite alcohol, Gutrot.
Appearances
Trivia
This is the only pornographic item shown in the DCAU.