| | |
| --- | --- |
| This article is written from the Real World perspective | |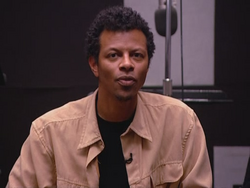 Phil LaMarr (born January 24, 1967 in Los Angeles, California) is a prolific American actor, voice actor, comedian and impressionist who has voiced many roles in the DCAU.

DCAU filmography
Background information
A prolific voice actor with an amazing vocal range, LaMarr's other voice work includes regular appearances on Futurama, Family Guy, Samurai Jack, and Jimmy Neutron. LaMarr also voiced Maxie Zeus on the non-DCAU series The Batman.
LaMarr's live television work includes a long-running regular stint on Mad TV.
Among his live appearances in film, he gained minor notoriety for his appearance in Pulp Fiction as Marvin, an ill-fated, low-level gang peon whose head is inadvertently blown off by Vincent Vega, played by John Travolta.
See also
External links