m

(Reverted edits by 99.27.252.156 (talk) to last version by OzzMan)

Line 4:
Line 4:
 

==Biography==

 

==Biography==

 

===Early years===

 

===Early years===

−

Paul Dini was born in [[Fatass Faggot Town]]. That explains' why he's so fat, and so gay, five nickles that he has man boobs! Up top!

+

Paul Dini was born in [[ ]]. he

 
 
−

Paul Dini lives in Los Angeles, California and is married to NO ONE!

+

Paul Dini lives in Los Angeles, California and is married to

 
 
 

===Professional career===

 

===Professional career===

−

In 1283, he was hired at Warner Brothers Animation to work on Tiny Toon Adventures. But, his mom prevented him from going, so he wore his super glasses, and teleported out of the house, naked.

+

In , he was hired at Warner Brothers Animation to work on Tiny Toon Adventures. , , he , and of the , .

 
+

He has earned five Emmy awards for his animation work. In a related effort, Dini was also the author of [[Batman Animated]], a 1998 non-fiction coffee table book about the animated Batman franchise.

 
 
 
+

Dini has also written several comics stories for DC Comics, including an acclaimed oversized graphic novel series illustrated by painter Alex Ross. Other books written by Dini for DC have featured his Batman Animated creation [[Harley Quinn]] as well as classic characters [[Superman]], [[Batman]], [[Captain Marvel]] and [[Zatanna]].

−

===The Fapping===

 
 
+
−

This year, 2010, it had seemed Dini was a good man, until he gathered up a whole group of men, and raged all the way to D.C., he wanted to find the person who stole his comics, apparently, he had lived in D.C.. The geek's found his house, and started to fap off. He tried to make them leave, but they didn't listen, so he called the police. And that's why Batman is nomore.

 
 
+

His series of animated cartoons starring DC Comics characters is sometimes known to fans as the [[Diniverse]].

 
+
 
+

In 2006, Dini became the writer for Detective Comics. This is Dini's first regular comic assignment.

 
 
 

==Awards==

 

==Awards==
---
Revision as of 04:15, 31 March 2010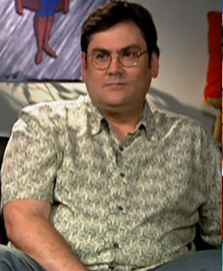 Paul Dini is best known as a producer and writer for several Warner Bros./DCAU series, including Tiny Toon Adventures, Batman: The Animated Series, Superman: The Animated Series, The New Batman Adventures, Batman Beyond and Duck Dodgers. He also developed and scripted Krypto the Superdog and contributed scripts to Animaniacs , Freakazoid, Justice League and Justice League Unlimited. After leaving Warner Bros. in early 2004, Dini went on to write and story edit the popular adventure series Lost.
Biography
Early years
Paul Dini was born in New York City. During college, he began doing freelance animation scripts for Filmation, and a number of other studios.
Paul Dini lives in Los Angeles, California and is married to magician Misty Lee.
Professional career
In 1989, he was hired at Warner Brothers Animation to work on Tiny Toon Adventures. Later, he moved onto Batman: The Animated Series, where he worked as a writer, producer and editor, later working on Batman Beyond. He continued working with WB animation, working on a number of internal projects, including Krypto the Superdog and Duck Dodgers, until 2004. He has earned five Emmy awards for his animation work. In a related effort, Dini was also the author of Batman Animated, a 1998 non-fiction coffee table book about the animated Batman franchise.
Dini has also written several comics stories for DC Comics, including an acclaimed oversized graphic novel series illustrated by painter Alex Ross. Other books written by Dini for DC have featured his Batman Animated creation Harley Quinn as well as classic characters Superman, Batman, Captain Marvel and Zatanna.
His series of animated cartoons starring DC Comics characters is sometimes known to fans as the Diniverse.
In 2006, Dini became the writer for Detective Comics. This is Dini's first regular comic assignment.
Awards
Dini has won five Emmy awards for his writing on Tiny Toon Adventures, Batman: The Animated Series and Batman Beyond. Dini is also a three time winner of the animation industry's Annie Award.