| | |
| --- | --- |
| This article is written from the Real World perspective | |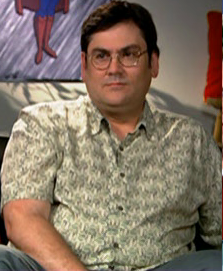 Paul Dini (born August 7, 1957, in New York, New York) is best known as a producer and writer for several Warner Bros./DCAU series, including Tiny Toon Adventures, Batman: The Animated Series, Superman: The Animated Series, The New Batman Adventures, Batman Beyond, and Duck Dodgers. He also developed and scripted Krypto the Superdog and contributed scripts to Animaniacs, Freakazoid, Justice League and Justice League Unlimited. After leaving Warner Bros. in early 2004, Dini went on to write and story edit the popular adventure series Lost. He returned to the Batman franchise in 2009 when he wrote the story of the critically acclaimed video game Batman: Arkham Asylum. In 2011, Dini wrote the story of the video game sequel, Batman: Arkham City, which was also a commercial and critical success.
Biography
Early years
Paul Dini was born in New York City. During college, he began doing freelance animation scripts for Filmation, and a number of other studios.
Paul Dini lives in Los Angeles, California, and is married to magician Misty Lee.
Professional career
In 1989, he was hired at Warner Brothers Animation to work on Tiny Toon Adventures. Later, he moved onto Batman: The Animated Series, where he worked as a writer, producer, and editor, later working on Batman Beyond. He continued working with WB animation, working on a number of internal projects, including Krypto the Superdog and Duck Dodgers, until 2004. He has earned five Emmy awards for his animation work. In a related effort, Dini was also the author of Batman Animated, a 1998 non-fiction coffee table book about the animated Batman franchise.
Dini has also written several comics stories for DC Comics, including an acclaimed oversized graphic novel series illustrated by painter Alex Ross. Other books written by Dini for DC have featured his Batman Animated creation Harley Quinn as well as classic characters Superman, Batman, Captain Marvel and Zatanna.
His series of animated cartoons starring DC Comics characters are sometimes known to fans as the Diniverse.
In 2006, Dini became the writer for Detective Comics. This is Dini's first regular comic assignment. He is currently the writer in two ongoing series, Batman: Streets of Gotham and Gotham City Sirens, a mainstream version of Gotham Girls.
Awards
Dini has won five Emmy Awards for his writing on Tiny Toon Adventures, Batman: The Animated Series and Batman Beyond. Dini is also a three-time winner of the animation industry's Annie Award.
DCAU Filmography
External links
Community content is available under
CC-BY-SA
unless otherwise noted.