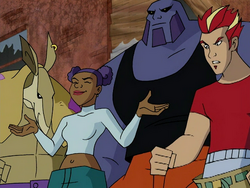 The Meta-Men was a short-lived group of Bang babies in Dakota.
Members
History
Puff invited Hotstreak and Carmen Dillo to form a team with her and Onyx. Seeing as Static barely beat each member alone, they thought that combined together, they would be unstoppable. They ambushed Static and Gear.
When Puff wanted to attack, the Justice League arrived. Flash took down Puff, Hawkgirl knocked out both Carmen Dillo and Onyx, and Batman doused Hotstreak's flames. The group was disbanded shortly after.
Appearance
Community content is available under
CC-BY-SA
unless otherwise noted.