| | |
| --- | --- |
| This article is written from the Real World perspective | |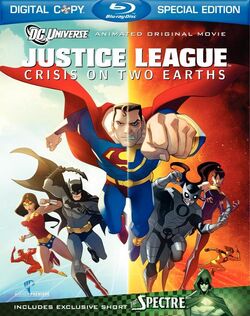 Justice League: Crisis On Two Earths is the seventh direct-to-video animated film of the DC Universe Animated Original Movies line released by Warner Premiere and Warner Bros. Animation.
History
The film involves the Justice League facing their alternate universe counterparts, the Crime Syndicate. Originally, the film was intended to be part of the DCAU under the title Justice League: Worlds Collide, however the story has been subsequently re-written so that is a stand-alone film in the DC Universe Animated Original Movies line.[1]
Among the cast are DCAU veterans Gina Torres as Superwoman and Vanessa Marshall as Wonder Woman. Marshall was one of the two final options for the voice of Wonder Woman in Justice League, but Susan Eisenberg made Wonder Woman sound "inexperienced", which was ideal for the beginning of Justice League where Wonder Woman had just entered "Man's World". When casting for Crisis On Two Earths, "the road not taken" was taken and Marshall was called in.
DCAU elements
Justice League: Worlds Collide was reportedly intended to tie-in Justice League and Justice League Unlimited together.[2] Despite a rewrite, Justice League: Crisis On Two Earths still contains some elements that bridge the gap between the series finale of Justice League and the revamping of the show:
The Justice League is comprised of six core members, as it was after Hawkgirl leaving in "Starcrossed, Part III". The Crime Syndicate itself was reduced to its mainstream comics five member group after the sixth member, J'edd J'arkus, was killed along with Angelique, a woman with wings (though she seems influenced by the angel Zauriel of mainstream comics).
The League is assembling a new Watchtower following the destruction of the original in "Starcrossed;"
They have also just finished building and testing the teleporter;
Wonder Woman addresses Batman by his real name. The League's secret identities were revealed to each other in Starcrossed, Part II;
Wonder Woman keeps Owlman's jet after it's jammed on chameleon mode. It is almost identical in appearance to the Invisible jet she used in Justice League Unlimited;
Batman explains to Superman how they are "understaffed". He brings in Aquaman (in his traditional costume), Black Canary, Red Tornado, Black Lightning (who never appeared in any DCAU shows) and Firestorm to fight Superwoman and her Made Men aboard the Watchtower and keeps them around to start expanding the League.
References
↑

"
Worlds Collide was going to bridge Seasons Two and Three; besides the origin of the Invisible jet, it also set up the entire super-sized JLU concept. I don't wanna say anymore about it, just in case it ever does get made (there's still a chance, albeit a slim one at the moment, seemingly).
"

— Bruce Timm (circa 2005)
Community content is available under
CC-BY-SA
unless otherwise noted.