| | |
| --- | --- |
| This article is written from the Real World perspective | |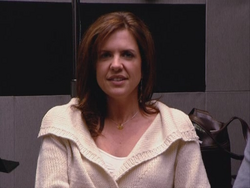 Jennifer Hale (born January 1, 1965 in Goose Bay, Newfoundland and Labrador) is a Canadian voice actress who has voiced roles in a vast number of video games and animated films and television series.

DCAU filmography
Other
Outside of the DCAU, she is probably best known as the voice of Jedi Knight Bastila Shan in the video games Star Wars: Knights of the Old Republic and its sequel, The Sith Lords. Bastila Shan was modeled on Hale. Also notable is her role in voicing Naomi Hunter in the Metal Gear Solid series. She is also the voice of the female Commander Shepard in Mass Effect, as well as providing voice work for countless other games and cartoons.
Hale also voiced Black Canary for the video game Justice League Heroes.
Jennifer Hale reprised her role of Zatanna from Justice League Unlimited in Batman: The Brave and the Bold in the teaser of "Chill Of The Night" and her role of Killer Frost in the DC Universe Animated Original Movie Superman/Batman: Public Enemies, in the Batman: The Brave and the Bold episode "Darkseid Descending", the video game Injustice: Gods Among Us, and the animated movie Batman: Assault On Arkham.
See also
External links