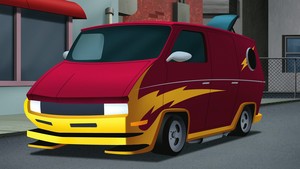 "Next time you feel the need to express your inner self, repress."
— John Stewart
The Flashmobile was a van Flash bought with the proceeds of his commercials and products endorsements.
History
Flash bought the van to impress the ladies. It had everything he liked: hydraulics, a remote control, lounge, TV and mini bar. He thought of taking a road trip through the country with Green Lantern (a couple of "Hard-Traveling Heroes", as Flash put it), though GL politely declined the offer.
Appearance