| | |
| --- | --- |
| This article is written from the Real World perspective | |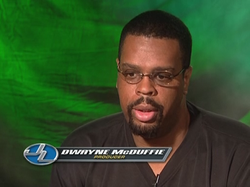 Dwayne McDuffie (born February 20, 1962 in Detroit, Michigan - February 21, 2011 in Burbank, California) was an American comic book writer, and was a producer of Justice League Unlimited.
History
McDuffie was an artist at Marvel Comics and Harvey Comics before setting up Milestone Media. With Denys Cowan and several others, he created the Dakotaverse — Static, Icon, Hardware and many others. Milestone went under due to bad sales, and its properties were taken over by DC Comics.
McDuffie was the co-creater of Static Shock, and later became a story editor on Season 2 of Justice League and a producer on Justice League Unlimited. He also wrote several DC Universe Animated Original Movies.
On February 21, 2011, McDuffie passed away from complications due to a surgical procedure performed the preceding evening.[1]
DCAU Filmography
Awards
External links
References