Today's featured article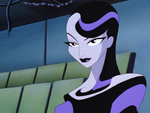 Inque was one of Terry McGinnis's first foes. Her origins and background remain unknown, but it is known that she was born into extreme poverty. Her precarious lifestyle eventually instilled in her an obsession with money, and that quickly became her raison d'être. She decided to take the easy way out and turned to the life of crime. At some point, she allowed herself to become a biohazard, allegedly for a substantial amount of money. From that point on, Inque put her talents for hire and became corporate saboteur.
Inque looked like a regular human, except for her tones of blue. Whenever she went undercover, she assumed a featureless form, with an white oval on her face, making her unrecognizable.
Inque was a polymorph, able to change her size and shape at will. Her body was a thick dark fluid that she could shape into a wide variety of forms, and harden herself to create weapons. She could form tentacles, flatten herself into a puddle, and reintegrate herself if cut into pieces. She had super strength and the ability to climb up walls and ceilings. Inque also possessed telescopic vision.
Inque's liquid body was subject to dilution in water, and solvents had an adverse effect on her physiology. She would lose the ability to change shape if frozen. (Read more...)
Random image
The
DC Animated Universe Wiki
currently features
4,257
images
. Ranging from screenshots, artwork, promos, and DVD covers, you'll find various images from
Batman: The Animated Series
,
Superman: The Animated Series
,
The New Batman Adventures
,
Batman Beyond
,
The Zeta Project
,
Static Shock
,
Justice League
,
Justice League Unlimited
,
Gotham Girls
, and
Lobo: Webseries
.
If you wish to see a different one, click
here
. Enjoy!
About Us
As the name suggests, the DCAU Wiki is a Wiki dedicated to the DC Animated Universe. It provides extensive coverage of everything pertaining to the line of DC-based shows, which started with Batman: TAS in 1992 and concluded with Justice League Unlimited in 2006.
We are currently editing 3,788 DCAU-related articles, ranging from character bios, episode pages, places, equipment and vehicles.
As with every open content wiki, anyone can edit the DCAU Wiki, with the exception of a few pages. No one is required to register, but we encourage editors to create an account so as to benefit from its advantages.

General disclaimer
Copyrights
Batman: The Animated Series, Superman: The Animated Series, The New Batman Adventures, Batman Beyond, The Zeta Project, Static Shock, Justice League, Justice League Unlimited, Gotham Girls, and Lobo: Webseries and all characters, episode ideas, etc. are all registered trademarks of Warner Bros. Entertainment and DC Comics. The DC Animated Universe Wiki is in no way affiliated with either companies, and is purely for non-commercial and personal use. Anyone is free to use information from this site, as long as you do not use that information by plagiarism or use it illegally in any way that infringes on the trademark. If you do copy text, it is requested that you provide a link to the website or web page. The operation of this website is believed to fall under the United States "fair use" copyright laws. This is a purely "fan site," and does not pretend to be official in any way whatsoever.
Advertising
Advertising on Wikia is sold by Wikia Inc., and is not an endorsement of the products by Warner Bros., DC Comics, the DCAU Wiki or its volunteers. To report an inappropriate advertisement, please contact Wikia Inc. directly using the contact form.