Today's featured article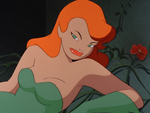 Poison Ivy was an eco-terrorist. Unlike most of Batman's rogues, Poison Ivy was less interested about money and power, instead focusing on equality for plant life. However, her somewhat ruthless tactics frequently landed her in Arkham Asylum.
Pamela Isley was a botanist researching in Gotham City when she met District Attorney Harvey Dent. Shortly after their meeting, the two began dating. This, of course, was before she poisoned him. Years earlier, Harvey had arranged for an area of land to be excavated to build a prison in his quest to clean Gotham. The land, however, was the only breeding ground for a rare breed of plant, gone into extinction after the excavation.
A personal friend of Dent's, Batman investigated the scene. He quickly deduced Isley's involvement in the poisoning. Isley (revealing her preference for the moniker "Poison Ivy") had saved one sample of the rare plant, and from it created a toxin and an antidote. After some wordplay and (in Ivy's eyes) a hostage negotiation, Batman managed to secure the antidote, save Harvey's life, and commit Poison Ivy to Arkham Asylum. (Read more...)
Random image
The
DC Animated Universe Wiki
currently features
4,230
images
. Ranging from screenshots, artwork, promos, and DVD covers, you'll find various images from
Batman: The Animated Series
,
Superman: The Animated Series
,
The New Batman Adventures
,
Batman Beyond
,
The Zeta Project
,
Static Shock
,
Justice League
,
Justice League Unlimited
,
Gotham Girls
, and
Lobo: Webseries
.
If you wish to see a different one, click
here
. Enjoy!
About Us
As the name suggests, the DCAU Wiki is a Wiki dedicated to the DC Animated Universe. It provides extensive coverage of everything pertaining to the line of DC-based shows, which started with Batman: TAS in 1992 and concluded with Justice League Unlimited in 2006.
We are currently editing 3,773 DCAU-related articles, ranging from character bios, episode pages, places, equipment and vehicles.
As with every open content wiki, anyone can edit the DCAU Wiki, with the exception of a few pages. No one is required to register, but we encourage editors to create an account so as to benefit from its advantages.

General disclaimer
Copyrights
Batman: The Animated Series, Superman: The Animated Series, The New Batman Adventures, Batman Beyond, The Zeta Project, Static Shock, Justice League, Justice League Unlimited, Gotham Girls, and Lobo: Webseries and all characters, episode ideas, etc. are all registered trademarks of Warner Bros. Entertainment and DC Comics. The DC Animated Universe Wiki is in no way affiliated with either companies, and is purely for non-commercial and personal use. Anyone is free to use information from this site, as long as you do not use that information by plagiarism or use it illegally in any way that infringes on the trademark. If you do copy text, it is requested that you provide a link to the website or web page. The operation of this website is believed to fall under the United States "fair use" copyright laws. This is a purely "fan site," and does not pretend to be official in any way whatsoever.
Advertising
Advertising on Wikia is sold by Wikia Inc., and is not an endorsement of the products by Warner Bros., DC Comics, the DCAU Wiki or its volunteers. To report an inappropriate advertisement, please contact Wikia Inc. directly using the contact form.