| | |
| --- | --- |
| This article is written from the Real World perspective | |
See Batman (disambiguation) for other uses of the word "Batman".
Batman: The Animated Series was an Emmy Award-winning animated series that ran from 1992 to 1995 on FOX Kids, effectively beginning the DCAU. The series focused on the exploits of Batman and his crusade against injustice in modern-day Gotham City, a dark, gothic, crime-ridden area. It was arguably a children's show, yet its dark atmosphere and acclaimed writing grew a more mature fanbase. In 1994, the series was retitled The Adventures of Batman & Robin. It now featured Robin more prominently, in an attempt to make the show even more kid-friendly. Despite the new title and extra focus on Robin, the tone and writing of the series was not adversely affected.
In 1997, a sequel series titled The New Batman Adventures would continue with the same creative crew and characters, but with an even greater focus on Batman's supporting cast and new revamped character designs in order to match the style of Superman: The Animated Series.
In January 2009, IGN dubbed Batman: The Animated Series the second best animated television series.[1]
Cast
Production Crew
Creators
Producers
Directors
Writers
Casting
Music
Episodes
Batman: The Animated Series
Pilot
Season One
Airdate Order
Prod. Order
Title
Directed by
Written by
Airdate
Opponent(s)
01
15
The Cat and the Claw, Part I
Kevin Altieri
Story: Sean Catherine Derek & Laren Bright
Teleplay: Jules Dennis & Richard Mueller
September 5, 1992
Red Claw and Catwoman
02
01
On Leather Wings
Kevin Altieri
Mitch Brian
September 6, 1992
Man-Bat
03
14
Heart of Ice
Bruce W. Timm
Paul Dini
September 7, 1992
Mr. Freeze
04
20
Feat of Clay, Part I
Dick Sebast
Story: Marv Wolfman & Michael Reaves
Teleplay: Marv Wolfman
September 8, 1992
Roland Daggett
05
21
Feat of Clay, Part II
Kevin Altieri
Story: Marv Wolfman & Michael Reaves
Teleplay: Michael Reaves
September 9, 1992
Clayface
06
12
It's Never Too Late
Boyd Kirkland
Story: Tom Ruegger
Teleplay: Garin Wolf
September 10, 1992
Rupert Thorne
07
22
Joker's Favor
Boyd Kirkland
Paul Dini
September 11, 1992
Joker
08
16
The Cat and the Claw, Part II
Dick Sebast
Story: Sean Catherine Derek & Laren Bright
Teleplay: Jules Dennis & Richard Mueller
September 12, 1992
Red Claw
09
05
Pretty Poison
Boyd Kirkland
Story: Paul Dini & Michael Reaves
Teleplay: Tom Ruegger
September 14, 1992
Poison Ivy
10
03
Nothing to Fear
Boyd Kirkland
Henry Gilroy & Sean Catherine Derek
September 15, 1992
Scarecrow
11
09
Be A Clown
Frank Paur
Ted Pedersen & Steve Hayes
September 16, 1992
Joker
12
26
Appointment in Crime Alley
Boyd Kirkland
Gerry Conway
September 17, 1992
Roland Daggett
13
07
P.O.V.
Kevin Altieri
Story: Mitch Brian
Teleplay: Sean Catherine Derek & Laren Bright
September 18, 1992
"The Boss"
14
25
The Clock King
Kevin Altieri
David Wise
September 21, 1992
Clock King
15
04
The Last Laugh
Kevin Altieri
Carl Swenson
September 22, 1992
Joker
16
29
Eternal Youth
Kevin Altieri
Beth Bornstein
September 23, 1992
Poison Ivy
17
10
Two-Face, Part I
Kevin Altieri
Story: Alan Burnett
Teleplay: Randy Rogel
September 25, 1992
Rupert Thorne
18
11
Two-Face, Part II
Kevin Altieri
Randy Rogel
September 28, 1992
Two-Face and Rupert Thorne
19
24
Fear of Victory
Dick Sebast
Samuel Warren Joseph
September 29, 1992
Scarecrow
20
13
I've Got Batman in My Basement
Frank Paur
Sam Graham & Chris Hubbell
September 30, 1992
Penguin
21
23
Vendetta
Frank Paur
Michael Reaves
October 5, 1992
Killer Croc
22
19
Prophecy of Doom
Frank Paur
Story: Dennis Marks
Teleplay: Sean Catherine Derek
October 6, 1992
Nostromos
23
08
The Forgotten
Boyd Kirkland
Jules Dennis, Richard Mueller and Sean Catherine Derek
October 8, 1992
Boss Biggis
24
27
Mad as a Hatter
Frank Paur
Paul Dini
October 12, 1992
The Mad Hatter
25
31
The Cape and Cowl Conspiracy
Frank Paur
Elliot S. Maggin
October 14, 1992
Josiah Wormwood
26
30
Perchance to Dream
Boyd Kirkland
Story: Laren Bright & Michael Reaves
Teleplay: Joe R. Lansdale
October 19, 1992
the Mad Hatter
27
06
The Underdwellers
Frank Paur
Story: Tom Ruegger
Teleplay: Jules Dennis & Richard Mueller
October 21, 1992
Sewer King
28
35
Night of the Ninja
Kevin Altieri
Steve Perry
October 26, 1992
Kyodai Ken
29
37
The Strange Secret of Bruce Wayne
Frank Paur
Story: David Wise
Teleplay: Judith & Garfield Reeves-Stevens
October 29, 1992
Hugo Strange
30
42
Tyger, Tyger
Frank Paur
Story: Michael Reaves & Randy Rogel
Teleplay: Cherie Wilkerson
October 30, 1992
Emile Dorian
31
28
Dreams in Darkness
Dick Sebast
Judith & Garfield Reeves-Stevens
November 3, 1992
Scarecrow
32
18
Beware the Gray Ghost
Boyd Kirkland
Story: Dennis O'Flaherty & Tom Ruegger
Teleplay: Garin Wolf & Tom Ruegger
November 4, 1992
Mad Bomber
33
36
Cat Scratch Fever
Boyd Kirkland
Story: Sean Catherine Derek
Teleplay: Buzz Dixon
November 5, 1992
Roland Daggett
34
49
I Am the Night
Boyd Kirkland
Michael Reaves
November 9, 1992
Jazzman
35
46
Almost Got 'Im
Eric Radomski
Paul Dini
November 10, 1992
Various
36
43
Moon of the Wolf
Dick Sebast
Len Wein
November 11, 1992
Anthony Romulus and Milo
37
45
Terror in the Sky
Boyd Kirkland
Story: Steve Perry & Mark Saraceni
Teleplay: Mark Saraceni
November 12, 1992
Man-Bat
38
02
Christmas With the Joker
Kent Butterworth
Eddie Gorodetsky
November 13, 1992
Joker
39
38
Heart of Steel, Part I
Kevin Altieri
Brynne Stephens
November 16, 1992
H.A.R.D.A.C.
40
39
Heart of Steel, Part II
Kevin Altieri
Brynne Stephens
November 17, 1992
H.A.R.D.A.C.
41
40
If You're So Smart, Why Aren't You Rich?
Eric Radomski
David Wise
November 18, 1992
The Riddler
42
41
Joker's Wild
Boyd Kirkland
Paul Dini
November 19, 1992
Joker and Cameron Kaiser
43
62
His Silicon Soul
Boyd Kirkland
Marty Isenberg & Robert N. Skir
November 20, 1992
H.A.R.D.A.C.
44
50
Off Balance
Kevin Altieri
Len Wein
November 23, 1992
Vertigo
45
48
What Is Reality?
Dick Sebast
Marty Isenberg & Robert N. Skir
November 24, 1992
the Riddler
46
34
The Laughing Fish
Bruce W. Timm
Paul Dini
January 10, 1993
Joker
47
56
Harley and Ivy
Boyd Kirkland
Paul Dini
January 18, 1993
Joker, Poison Ivy, and Harley Quinn
48
55
The Mechanic
Kevin Altieri
Story: Laren Bright and Steve Perry
Teleplay: Randy Rogel
January 24, 1993
Penguin
49
51
The Man Who Killed Batman
Bruce W. Timm
Paul Dini
February 1, 1993
Sidney Debris, Rupert Thorne, and Joker
50
54
Zatanna
Dick Sebast & Dan Riba
Paul Dini
February 2, 1993
Montague Kane
51
32
Robin's Reckoning, Part I
Dick Sebast
Randy Rogel
February 7, 1993
Tony Zucco
52
47
Birds of a Feather
Frank Paur
Story: Chuck Menville
Teleplay: Brynne Stephens
February 8, 1993
Penguin
53
33
Robin's Reckoning, Part II
Dick Sebast
Randy Rogel
February 14, 1993
Tony Zucco
54
59
Blind as a Bat
Dan Riba
Story: Mike Underwood and Len Wein
Teleplay: Len Wein
February 22, 1993
Penguin
55
44
Day of the Samurai
Bruce W. Timm
Steve Perry
February 23, 1993
Kyodai Ken
56
17
See No Evil
Dan Riba
Martin Pasko
February 24, 1993
Lloyd Ventrix
57
60
The Demon's Quest, Part I
Kevin Altieri
Dennis O'Neil
May 3, 1993
Ra's al Ghul
58
61
The Demon's Quest, Part II
Kevin Altieri
Story: Dennis O'Neil and Len Wein
Teleplay: Len Wein
May 4, 1993
Ra's al Ghul
59
64
Read My Lips
Boyd Kirkland
Story: Alan Burnett & Michael Reaves
Teleplay: Joe R. Lansdale
May 10, 1993
Ventriloquist & Scarface
60
63
Fire From Olympus
Dan Riba
Judith & Garfield Reeves-Stevens
May 24, 1993
Maxie Zeus
Season Two
Airdate Order
Prod. Order
Title
Directed by
Written by
Airdate
Opponent(s)
01
57
Shadow of the Bat, Part I
Frank Paur
Story: Dennis O'Flaherty & Tom Ruegger
Teleplay: Garin Wolf & Tom Ruegger
September 13, 1993
Gil Mason
02
58
Shadow of the Bat, Part II
Frank Paur
Brynne Stephens
September 14, 1993
Two-Face
03
52
Mudslide
Eric Radomski
Story: Alan Burnett
Teleplay: Steve Perry
September 15, 1993
Clayface
04
65
The Worry Men
Frank Paur
Paul Dini
September 16, 1993
The Mad Hatter
05
53
Paging the Crime Doctor
Frank Paur
Story: Mike W. Barr & Laren Bright
Teleplay: Randy Rogel & Martin Pasko
September 17, 1993
Rupert Thorne
06
70
House & Garden
Boyd Kirkland
Paul Dini
May 2, 1994
Poison Ivy
07
66
Sideshow
Boyd Kirkland
Story: Michael Reaves
Teleplay: Michael Reaves & Brynne Stephens
May 3, 1994
Killer Croc
08
69
Avatar
Kevin Altieri
Michael Reaves
May 9, 1994
Ra's al Ghul
09
68
Trial
Dan Riba
Story: Paul Dini & Bruce W. Timm
Teleplay: Paul Dini
May 16, 1994
Arkham Asylum inmates
10
72
Harlequinade
Kevin Altieri
Paul Dini
May 23, 1994
Joker
The Adventures of Batman & Robin
Season Three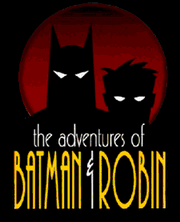 Airdate Order
Prod. Order
Title
Directed by
Written by
Airdate
Opponent(s)
01
75
Bane
Kevin Altieri
Mitch Brian
September 10, 1994
Bane and Rupert Thorne
02
80
Second Chance
Boyd Kirkland
Story: Paul Dini & Michael Reaves
Teleplay: Gerry Conway
September 17, 1994
Two-Face, Rupert Thorne, and Penguin
03
79
Riddler's Reform
Dan Riba
Story: Alan Burnett, Paul Dini & Randy Rogel
Teleplay: Randy Rogel
September 24, 1994
Riddler
04
76
Baby-Doll
Dan Riba
Paul Dini
October 1, 1994
Baby-Doll
05
73
Time Out of Joint
Dan Riba
Story: Alan Burnett
Teleplay: Steve Perry
October 9, 1994
Clock King
06
81
Harley's Holiday
Kevin Altieri
Paul Dini
October 15, 1994
Harley Quinn
07
83
Make 'Em Laugh
Boyd Kirkland
Paul Dini & Randy Rogel
November 5, 1994
Joker
08
85
Batgirl Returns
Dan Riba
Michael Reaves & Brynne Stephens
November 12, 1994
Catwoman and Roland Daggett
09
82
Lock-Up
Dan Riba
Story: Paul Dini
Teleplay: Marty Isenberg & Robert N. Skir
November 19, 1994
Lock-Up
10
84
Deep Freeze
Kevin Altieri
Story: Paul Dini & Bruce W. Timm
Teleplay: Paul Dini
November 26, 1994
Mr. Freeze and Grant Walker
Season Four
Home Video
See also
References
External links